MUMBAI: The Indian Cricket Board (BCCI) is looking at all possible ways to secure
Virat Kohli
will be back in South Africa in January next year to play the three one-day internationals after the Test series.
Although it can be confirmed that Kohli actually informed BCCI that he wanted a break during One-dayers – this, the board says, happened before the ODI captaincy changed hands – the bigger task for them right now is to send out. a clear message that "everything is fine within the Indian team".
"Sometimes it's not just about doing the right thing, but also about being seen as doing the right thing," say those who track developments.
The burden is solely on Kohli as he prepares to speak to the media on Wednesday, the threshold for the team's departure to South Africa. The former white-ball captain, it is learned, wanted the break for 'personal reasons', which have nothing to do with rumors that he is upset about the change of captain.
Virat Kohli (AFP image)
For the record, Kohli has repeatedly spoken warmly about Sharma as a teammate, and Sharma once again reciprocated that sentiment when he spoke to BCCI's official website on Monday. "Five years in which he (Kohli) led the team, he led from the front every time and there was the courage and will to win every game. I have played a lot under him and I have enjoyed every single moment, still continue with to do so, "Sharma said.
BCCI certainly also wants this camaraderie to show up on the field, one that will not only bring a lot of positivity into the new Team India set-up, but also calm all unnecessary controversies.
"We will try to see what can be done here that is best from the team's perspective," said a senior BCCI official when asked if Kohli would agree to a change in plans and stay back for One-dayers .
TOI had reported on Tuesday that Kohli was asking for a break during the ODIs in South Africa. In a speech to news channels on Tuesday afternoon, BCCI treasurer Arun Dhumal also confirmed the same. Dhumal said "Kohli had made the request (for a break) long before Sharma was announced as captain".
While any cricketer is welcome to take a break from what is otherwise a very hectic schedule year-round, BCCI is also of the opinion that Kohli taking a break right now might "not send the right message".
BCCI President Sourav Ganguly, who said in an official statement on Sunday that he had "personally spoken to Kohli" and "the same did the chairman of the selections" who asked him not to resign from the T20 captaincy, has not yet shared his views on , that Kohli is seeking a break from the ODIs.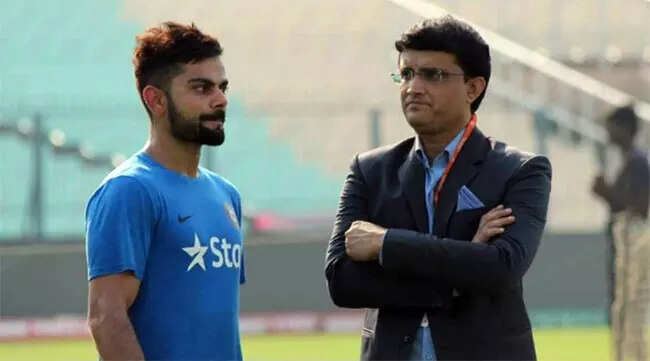 Virat Kohli and Sourav Ganguly (BCCI Photo)
He also added in the statement that BCCI had asked Kohli "not to resign as T20 skipper, but he obviously did not agree".
Kohli's views on the matter have not yet been heard, except for the post on social media, which he came out with on September 16, where he announced that he is stepping down as T20 captain, but will continue to lead the team in testing and ODI.
"BCCI had consistently maintained that it would not allow shared captaincy in white-ball cricket, and it is clear from Ganguly's statement that Kohli was told about it. He said it himself, say those who follow the development.