NEW DELHI: Indian Test Captain
Virat Kohli
's virtual press conference on Wednesday has attracted a lot of attention. Without chopping a few words, Virat made it clear that he had not been asked to reconsider his decision to resign as India T20I captain of BCCI. That after the BCCI president
Sourav Ganguly
had previously said that Virat was asked not to resign.
Virat also put an end to all speculation about his availability to the ODI series in South Africa and his alleged breakup with new whiteball skipper
Rohit Sharma
.
Kohli also cleared the air that he was never talked about being replaced as ODI captain until the chairman of the electorate
Chetan Sharma
hinted at him 90 minutes before the scheduled test team meeting for the South Africa trip.
The following are 10 of the most important quotes from Virat's press conference before the teams' departure for South Africa:
–
"When I left the T20 captaincy, I had first approached the BCCI and informed them of my decision and put my point of view before them (officials). I gave the reasons why I wanted to leave the T20 leadership and my point of view was received "There was no offense, no hesitation, and not for once was I told 'you should not leave the T20 captaincy,'" Kohli said, in stark contrast to what Sourav Ganguly had previously stated that the board asked him not to stop. .
–
"Whatever was said about the communication that happened about the decision that was made was inaccurate," Kohli said, citing Gangully's statement.
– "I was contacted an hour and a half before the selection meeting on the 8th of the test series, and there was no prior communication to me at all since I announced my decision on T20 captain. The chief selector discussed the test team, which we both agreed. Before I ended the call, I was told that the five voters have decided that I do not want to be the ODI captain, to which I replied 'okay fine'. "
– "I can understand why (he was removed as ODI captain) – the reason – we have not won an ICC tournament. Whether the decision they made is right or wrong, there is no debate. It is a logical decision, as I understand it. The events that happened, and the way I was communicated (things), I have told you. "
– "I was and I am available for selection all the time. I never communicated with BCCI and asked for rest. I am available for the ODI series in South Africa, and was always available," Kohli said during the pre-departure press conference before the tour of South Africa.
– "There is no rift between me and Rohit Sharma. I have clarified several times in the last 2.5 years and now I am tired of clarifying things. I can guarantee you that my communication will never be to take my team down "Before I play cricket that's my commitment to Indian cricket," said Kohli.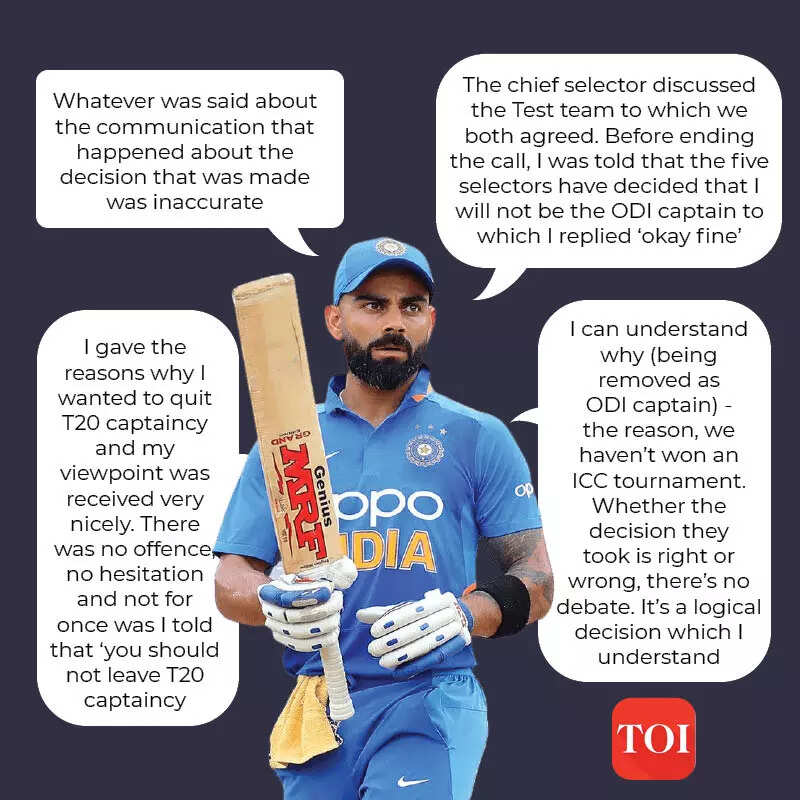 – "My responsibility, of course, is to push the team in the right direction, something that I have always sought to do, even before I became captain, so that mindset has never changed and it will never change," Kohli said of his role during Rohit's leadership.
– "Rohit is a very good captain and tactically very healthy. We have seen in the matches that he has also been captain of India and in the IPL. The same is (Rahul) Dravid bhai, who is a very, very balanced coach, fantastic mand manager. "
– "Both of them (Rohit and Dravid) will have my absolute support and my contribution in the vision they set for the team and I will be there to support it 100 percent and continue to be a guy who can push the team in. the right direction forward from here. "
– "South Africa is a place where we have not won a series yet. So we are very motivated to do so. And the mindset is always to go there and win a series in any country we play."