Two policemen were killed and 14 others wounded, some of them critically, after militants on Monday attacked a police bus in a heavily fortified neighborhood in Srinagar. Police said the attack was carried out by an offshoot of Jaish-e-Mohammad (JeM).
It was the first major attack on security forces in the valley since the abolition of J & K's special status in August 2019 and the Lethpora (Pulwama) car bombing that killed 40 CRPF personnel in February of that year.
prime minister Narendra Modi sought details of the attack. In a Twitter post, the prime minister's office said: "He has also expressed condolences to the families of the security personnel who have been martyred during the attack."
National Conference leader and former prime minister Omar Abdullah wrote on Twitter: "Terrible news of a terrorist attack on a police bus on the outskirts of Srinagar. I unequivocally condemn this attack, while sending my deepest condolences to the families of the deceased and praying for the wounded. . "
A soldier guards while an ambulance passes near the site of an attack on the outskirts of Srinagar. (AP)
PDP leader and former chief minister Mehbooba Mufti tweeted: "Terribly sad to hear about the Srinagar attack in which two policemen were killed. GoI's false narrative of normality in Kashmir is revealed, but there has been no course correction. My condolences to the bereaved families."
Police said militants fired randomly at a 9th Battalion police bus of JK Police's armed wing at Zewan on the outskirts of Srinagar city. It left 16 policemen wounded. They were immediately transferred to Army 92 Base Hospital in Badamibagh, where two policemen died.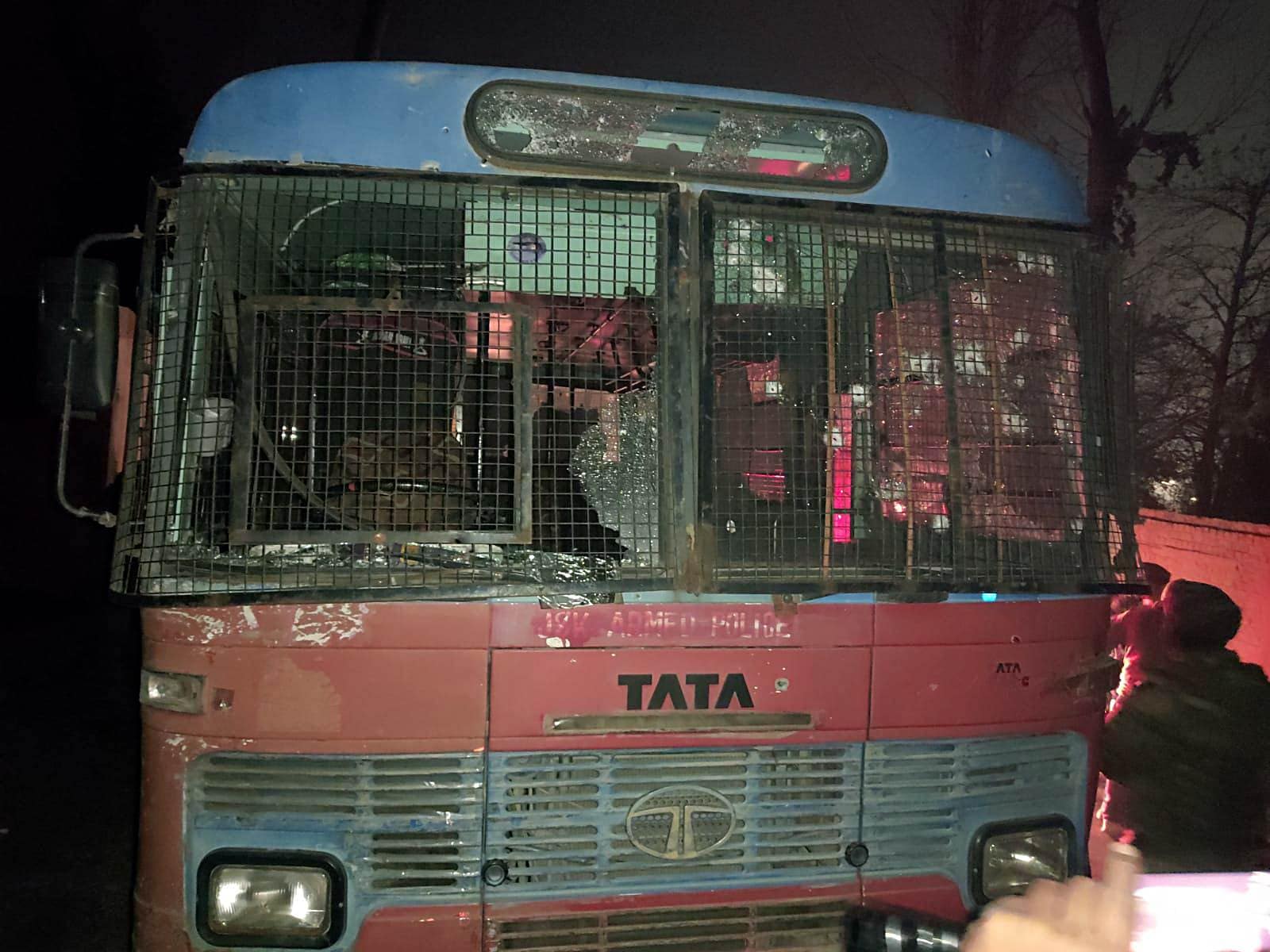 Police vehicle, which was attacked in Srinagar on Monday. (ANI)
Police sources said one of the dead was an assistant inspector and the other a constable. Three militants, sources said, carried out the attack. They got on a scooty, randomly shot at the police bus and escaped.
In a statement, police said: "Preliminary investigation has revealed that three terrorists had fired randomly at a police vehicle with police officers near Zewan … the police party returned to their campus after completing their duties. Although the fire was retaliated against and exploited the darkness, the terrorists managed to escape from the place. "
Police said one of the militants was wounded in retaliation. "Credible sources revealed that the attack was carried out by the Kashmir Tigers, an offshoot of JeM," police said.
Zewan houses JK Police's armed wing complex, home to several armed police battalions. It also houses the sector headquarters for CRPF and the station headquarters for ITBP.
Militants have stepped up attacks on police this year. According to official figures, 19 policemen have been killed, including two on Monday, in militant attacks in the valley this year.
Two days ago, militants killed two police officers in Bandipore. Police said they have identified the militants.